On this page you can read about Betway Kenya, the games offered, the bonuses and how to use a Betway casino bonus code to claim the bonus offers. But first, a quick introduction of the casino and the company behind it.
Betway Kenya Casino has risen to the top of the business. Betway's major customer base comes from the United Kingdom, Spain, and Germany, making it one of the market leaders in Europe. They recently began exploring new African markets and obtained licenses in a number of African countries. Bluejay Limited, which operates Betway Kenya (betway.co.ke), is licensed and controlled by the Betting Control and Licencing Board of Kenya (BCLB).
If you're familiar with the name Betway, it's presumably because of their large sponsorship deals. They are the primary sponsor of the West Ham United football team, as well as the Premier League in Darts; the ESL Premier League in the United Kingdom, the UK Snooker Championship, and a number of other leagues and teams.
Casino Games at Betway Kenya
Betway's casino section offers a variety of games you can play, including casino games like slot machines, roulette, and blackjack. In the casino section of Betway, there are over 400 online slots. This way, customers have a wide range of alternatives to choose from. The slots available are mainly created by one of the best software providers in the industry Microgaming. Microgaming's slots feature realistic sounds and amazing graphics, as well as many bonus features. For instance, the Mega Moolah series are slot games that have the highest jackpot payouts and are provided by Microgaming. Fortunately, you can play the Mega Moolah slot series in Kenya, but only at Betway casino. If you are a fan of progressive jackpot slots, we definitely recommend you to try Betway casino.
Many people think of traditional table games when they think of casinos. Betway is the casino that provides a solid selection of these games. You can play one of the various roulette variations or blackjack if you prefer a card game. We recommend you to try Spin and Win Roulette.
Spin and Win Roulette is a simplified, fast-paced variant of roulette in which the wheel only goes up to number 12 (rather than 36) and you can place multiple bets on as many numbers as you want.
Casino table games are all available as live casino games as well. Furthermore, different live casino events include different live dealers, so you can play any game with any dealer you like.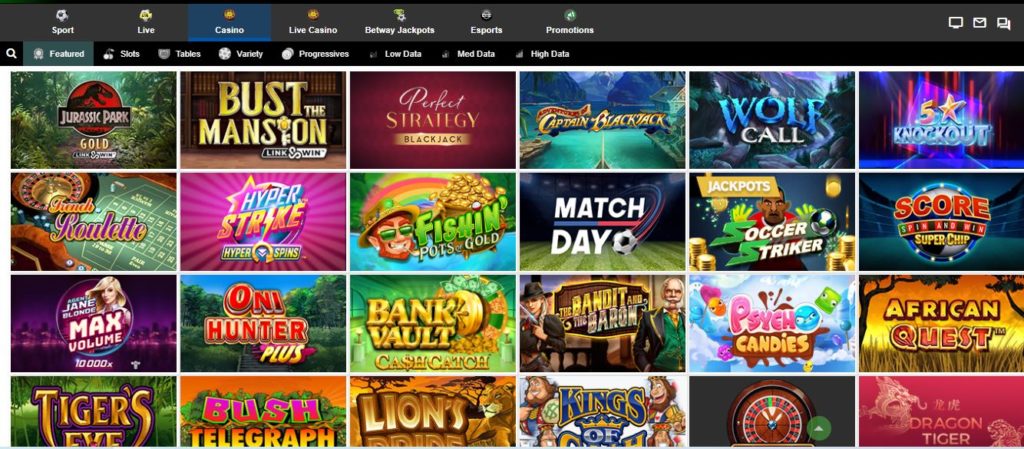 Sports Betting at Betway Kenya
Betway Kenya offers is one of the best betting sites. Nothing compares to the thrill and excitement of putting bets on your favourite sports and seeing your favourite teams compete against their opponents. Football, cricket, tennis, ice hockey, handball, basketball, golf, boxing, darts, rugby, baseball; bowling, MMA, motorsports, cycling, field hockey, waterpolo, snooker, and biathlon are among the most popular sports and markets on which you may wager at Betway.
Betway is also a great site to be on if you enjoy eSports. Counter-Strike, Dota 2, Overwatch, StarCraft, and King of Glory are among the eSports games available. Aside from the most popular sports from around the world and eSports, the betting site also has speciality markets such as politics and entertainment.
Betway proves to be an ideal Kenyan website for both sports and casino game fans.
Live Betting
Betway, like other leading bookmakers in this industry, offers live betting. When you first get to the live betting page, you'll notice a list of events that you may bet on in real-time.
When you select an event to bet on, you will be presented with extensive statistics, text comments, and all potential odds on which to place your wager. The visuals aren't flawless, but there's a lot to choose from to meet your needs.
There are bookmakers that give a better deal than Betway, but the betting selections are fantastic, with over 90 available at any time. When it comes to the sports available you can find the most popular sports, such as football and tennis.
How Betway App Works?
As one might expect, Betway is available on mobile. With its Betway mobile app, one may easily bet and play Betway games, despite the fact that the number of titles available on the Betway app is lower.
Regardless, the game selection is amazing, and users may get the best experience using their app. Both iOS and Android users will be pleased to learn that the app is fully compatible with their devices. The user interface is simple and intuitive, and the gameplay is made easier with touch and gesture features available on today's smartphones.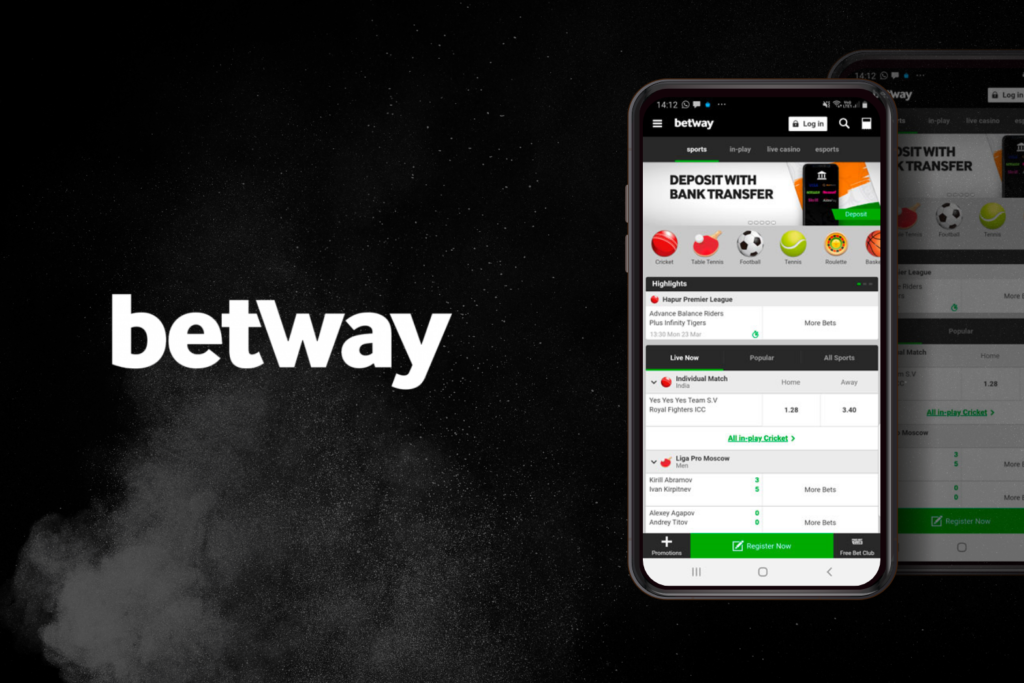 Bonuses and Promotions
Casino bonuses and promotions are the most influential aspects of a player's decision to join a new online casino. Bonuses allow players to either play for free without having to deposit any money or to receive a bonus for the money they deposit after registering. This is what the casino bonus codes are used for.
Betway casino has a welcome bonus on offer, which would certainly pique your interest. The generous offer however is available for sports bettors only. The first rule you should learn is to always look for the promo code for the bonus offered. In this case, there is no Betway casino bonus code that is required for claiming the bonus. In case there is a casino bonus code available, you must use it during the registration process. Below we provide more information about the Betway welcome bonus offer and how to claim it.
Unfortunately, for the time being, Betway does not offer any kind of welcome casino bonus to Kenyan players. As a result, you are unlikely to receive any free spins from Betway. You might, however, keep an eye on Betway's latest promos for Kenya and see if a new casino offer is available.
On occasion, Betway has daily or monthly promotions for existing customers. When this happens, you will notice a special Betway casino bonus code displayed on the website. Use the code to claim the bonus offer and take advantage of some free spins or cash.
Betway Welcome Bonus
Betway casino Kenya has a welcome bonus for new customers who love sports betting. Customers who sign up for the Betway Welcome Bonus will receive a 50% bonus up to KSh 5,000 in free bets. There is no Betway casino bonus code available for this bonus, but the bonus is rewarded after a deposit has been made and played through. Read how to claim Betway free bet below.
This means that the customer must wager 3x the amount of their initial deposit on Sports at odds of 3.0 or greater. Moreover, bets made on casino or live casino games do not count toward meeting the welcome bonus requirements. The wagering requirements have to be met within 30 days in order to unlock the free bets. After the wagering requirement has been met, the Free Bet is awarded, and again, no Betway casino bonus code is required.
When it comes to the Free Bets awarded, there are no hidden conditions or requirements. Customers who use their Free Bets to place bets will get any and all profits (minus the initial wager) in their cash balance, which may then be used to place another bet or withdrawn.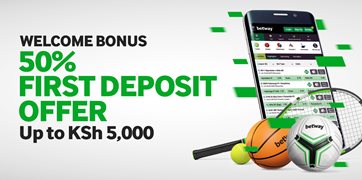 How to use Betway free bet?
Once the bonus is claimed, the Betway free bet is awarded. Any qualifying Free Bet will be added to your Free Bet balance and can be used to place wagers. Betway imposes certain terms and conditions regarding the usage of Free Bets.
Betway Free Bet can only be used to place bets and cannot be transferred, swapped, or exchanged for cash. There is no way to get your money back if you have a Free Bet balance.
The Betway Free Bet is valid for 180 days from the time it was credited to your Betway Account. If your Free Bet is not used within 180 days, it will expire and be deleted from your Betway account.
Any remaining balance from a Free Bet must be wagered in its entirety as a single wager. This single bet can be made with a single selection or multiple selections.
The Free Bet is non-refundable, and any winnings do not include the amount wagered on the Free Bet. Your Betway account will only receive the winnings.
Any Free Bet has a maximum reward of KSh 1,500,000.
Betway Jackpot
The Betway jackpot is one of Kenya's most lucrative, with the first prize of KSh 500,000 every week. It is available every week, on specific matches.
The Betway jackpot has 5 matches in total for which you need to predict the final outcome. There are three possible outcomes to choose from for each match, 1, X, 2. The winner of the jackpot is the player that will have correct predictions for all 5 matches. If there are several winners, the jackpot fund will be divided equally. In addition, Betway offers a consolation prize for the player who will correctly predict 4 out of the 5 matches.
To try your luck and knowledge, head over to the Betway Kenya website and choose BETWAY JACKPOTS from the main menu. Make the selections and continue by pressing the button Bet Now. The next step is to confirm and make the payment, and your slip will be in the running. There is no Betway casino bonus code for this promotion, so you won't be asked to enter anything except your payment details.
How to use the Betway casino bonus in Kenya?
We've put together some professional advice on how to make the most of the Betway bonus.
Check for promo code
Before registering, make sure if the welcome bonus you want to claim has a Betway casino bonus code. If there is a promo code, use it to activate the bonus offer. Otherwise make sure you read how to activate the bonus offer.
Read the bonus terms and conditions
Before jumping into a bonus offer, make sure you read the terms and conditions. Generally, each bonus has some wagering requirements or minimum and maximum deposit limits you need to be aware of before making the deposit.
Be aware of the time frame
The majority of bonus offers have deadlines, ranging from a generous 40 days to a quick 7-day turnaround. If you don't wager everything you need before your time runs out, you won't be able to take advantage of the bonus
Restricted games
If you've chosen a casino bonus, make sure you know which games count toward the wagering requirements. Some promotions are limited to a particular slot. Other on the other hand, let you use your free spins or cash on any game you like.